April 15, 2013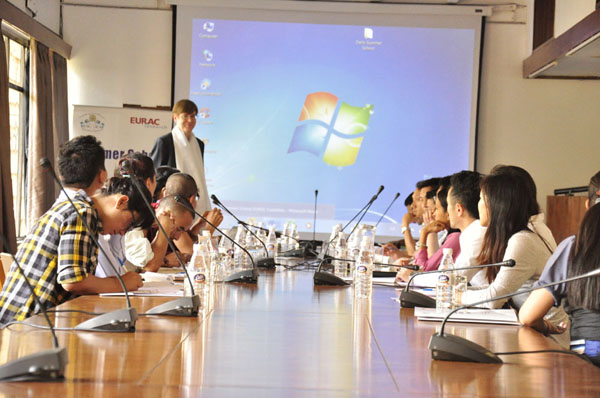 Dr Gunther Cologna addressing the opening session of the school
NEW DELHI: In a joint project of the European Academy of Bolzano, Italy (EURAC) and the Tibet Policy Institute (TPI) of Central Tibetan Administration, a week-long summer school on human rights, minorities and federalism began today at the India International Center.
A diverse mix of 24 participants, including scholars of TPI, researchers of Department of Informational Relations of CTA, monks from Tibetan Institute of Buddhist Dialectics, staff of Tibetan NGOs, students of the Jawaharlal Nehru University, etc, are participating in this summer school from 15-19th April 2013.
Speaking at the inaugural session, Dr. Gunther Cologna, program director and head of the EURAC education, spoke at length about how EURAC is sharing its experience and expertise with TPI through a number of joint projects.
The summer school features a series of lectures by a number of outstanding global academics and experts like Joshua Castellino, Prof. of Law & Dean of the School of Law at Middlesex University, London; Dr Fernand de Varennes from the University of Hong Kong; Sergiu Constantin, Researcher within the Institute for Minority Rights, EURAC; Asha Sarangi, Associate Prof. at Centre for Political Studies, Jawaharlal Nehru University.
The summer school also features an open public event with Kasur Tempa Tsering, His Holiness the Dalai Lama's Representative based in New Delhi, and Prof. Michael Davis, Visiting Prof. at the University of Hong Kong. The event titled "Beyond the Deadlock: What Future for Tibet?" scheduled to be held on Wednesday will be moderated by Prof. Gunther Cologna.
The European Academy Bolzano/Bozen (EURAC) was established in 1992 in the Autonomous Province of South Tyrol (Italy) as a private non-profit organization for advanced research and further education. EURAC focuses on four main areas of research: Autonomies, Mountains, Health and Technologies. The EURAC's Institute for Studies on Federalism and Regionalism (SFeRe) and Institute for Minority Rights (IMR) form together the core of the research area "Autonomies".
The Tibet Policy Institute serves as a think-tank of the Central Tibetan Administration. It strives to serve as an intellectual hub for Tibetan scholars across the globe and to become an internationally recognized and effective platform for Tibetan scholars to articulate their argument on the issue of Tibet that will shape the perception of the international community and the policies of the various governments regarding Tibet and the Tibetan people.