4 Years After Quake, Some See a Resurrected Chinese City, Others Dashed Dreams
YUSHU, China — Gazing out over the gleaming heart of this resurrected city, the young Buddhist monk marveled at how quickly the Chinese government had rebuilt his hometown just four years after a calamitous earthquake shattered every last building, killing at least 3,000 people and leaving more than 100,000 others homeless.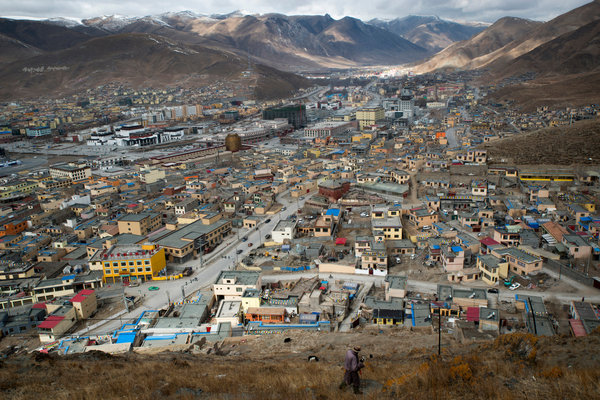 In addition to thousands of new homes, dozens of schools and handsome, granite-faced government offices, the city is graced by an exuberantly modern performing arts center and a hulking Tibetan art museum fit for the cover of Architectural Digest.
But behind him, hugging a dusky hillside, the collection of unfinished temples and dormitories of Jiegu Monastery told a different story. The monk, who like many Tibetans goes by a single name, Jamyang, said Chinese construction crews disappeared one day last September after money for the monastery's reconstruction dried up. With the authorities largely unresponsive, hundreds of monks and nuns resigned themselves to living in the bright blue disaster relief tents that arrived in the weeks after the quake struck on April 14, 2010.
"The government solved the immediate needs of sleeping and eating, but we hope they can finish the job they started," said Jamyang, 27, who has lived at the hilltop monastery since he was a boy. "There are some people feeling neglected."
Natural disasters can challenge even the most capable and affluent of nations, but the 7.1-magnitude earthquake that flattened this geographically isolated trading hub has tested the Chinese government's ability to marshal labor and construction supplies in one of the world's most inhospitable places.
Despite a herculean effort and Beijing's best intentions, the $7.2 billion reconstruction project has inadvertently aggravated the animosities that have long bedeviled Han-Tibetan relations, favoring the well connected over the disenfranchised and fueling the systemic corruption that often plagues large infrastructure projects in China.
In Yushu, the absence of public participation or transparency provided local officials ample opportunity for self-dealing, angering members of an ethnic minority that the government can ill-afford to alienate.[Source]