Meltdown in Tibet: TPI hosts Michael Buckley
As part of its monthly talk series, the Tibet Policy Institute invited Michael Buckley, award-winning journalist and author, to speak on the topic "Meltdown in Tibet", which also is the title of his latest book.
Mr. Buckley, who has uncovered Tibet's deepest gorges and highest freshwater lakes through extensive travels for more than 30 years, gave an eyewitness account, backed by scientific findings, on the pervasive 'ecocide' on the Tibetan Plateau. He noted that China's large-scale damming of the mighty rivers of the Tibetan Plateau to feed its thirst for power, coupled with relentless mining and plans to divert water from these rivers to northern China, have caused an imminent threat to billions of downstream people who depend on these waters for their livelihoods.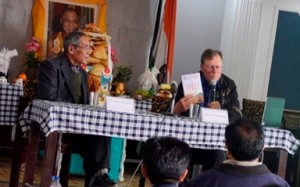 Mr. Buckley signed and presented a copy of his latest book, "Meltdown In Tibet – China's Reckless Destruction Of Ecosystems From The Highlands Of Tibet To The Deltas Of Asia" to all the departments of the Central Tibetan Administration.
The talk was held at the Nyatri Hall on February 17, 2015.