Obituary: Thubten Samphel- A Man of Few Words and Many Works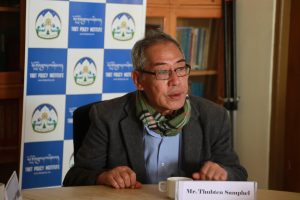 In this world, we will meet many people and there are few in this world who will leave an indelible impression. I believe Thubten Samphel-la is one such person. My first encounter with Thubten Samphel-la TS) was through his remarks. For my M.Phil. dissertation work on India-China relations, I have quoted him because of his interesting reply to the media on a question related to the impacts of the railway on Tibet. He said, "The railway line itself is not a cause of concern for the Tibetan people, rather how it will be used is the main concern." The second meeting with TS was in 2012 when I attended the inaugural function of the Tibet Policy Institute (TPI) in Gangchen Kyishong. He was appointed as the Tibet Policy Institute's first Director. The third meeting sealed my unwritten relationship with him as 'Guru" and 'Chela'.
At TPI, TS has an aura of positivity around him. One can get motivated and energized even by simply seeing him. I have now realized that it is indeed because of his, as aptly described by DIIR Kalon Norzin Dolma-la, "Tall legacy, dedicated service, inspiring personality and huge contribution to the Tibetan cause through different portfolios." Normally, whenever a boss calls you, there is an uneasiness, thinking that they may question you about your work. But in his case, I always felt honored and joyful to be called by him in his office. I think my colleagues too would share the same feelings. He is indeed a man of few words. I fondly remember his words, such as Gyalchi dhing cha Khang la which means we Tibetans have to write and bring the issue of Tibet on the international platform.
He was indeed the most relavant person in the Gangchen Kyishong; from contributing to the different newspapers, and writing and reviewing the lengthy reports of the Central Tibetan Administration, TS was one of the most dedicated bureaucrats in Gangchen Kyishong. I think within the corridors of Gangkyi, there is not a single important document in English that has not been cross-checked and edited by him. Similarly, at TPI, his editing and insightful suggestions have added extra sheens to the writings of the institute's research fellows.
His writings extend beyond the corridors of Gangkyi. Besides writing two novels (Falling through the Roof and Copper Mountain) and numerous commentaries mostly on Tibet, Thubten Samphel was a regular reviewer for books on Tibet for the Hindustan Times, a major English language newspaper in India. For instance, Manjula Narayan, who is a National Books Editor at Hindustan Times writes in her Twitter post that "I have never met Thubten Samphel in person but he wrote for @htweets (Hindustan Times) Books page regularly. Every time I got a book that touched on the Tibetan issue, I sent it to him. I will miss his sharp writing and his insights. A real loss."
A few years before, I recalled telling one of my senior colleagues about his eligibility for getting an honorary doctorate from any university around the world for his vast contribution to promoting dialogue and finding common ground between Tibet and China through his writings and also bringing the issue of Tibet on the international platform. Because of his scholarship, Bhuchung K. Tsering and his colleagues have knighted him and referred to him as "Sir Samphel." A few years back, when he was the Director of the TPI, I found that he has been honorably selected by the professors of Jawaharlal Nehru University as one of the examiners for the M.Phil. and Ph.D. dissertations and theses related to Tibet. Later I discovered that TS had been addressed as Dr. Thubten Samphel. All the above events show that his scholarship has been admired by many. In short, he was a writer, scholar, bureaucrat, patriot, mentor, teacher, diplomat, and a very humble and kind-hearted human being. I am sure he will be dearly missed by everyone who has met him in person and those who have read his writings.
I think writing for Samphel-la was not only a passion but a just cause. The best tribute one can give him is to bring the cause of Tibet to the international platform through the writings. Like his Tibetan name Samphel, which means blossoming of thoughts, I wish and pray that his writing continues to inspire Tibetans all around the world. 
*Dr. Tenzin Tsultrim is a reserach fellow at the Tibet Policy Institute. Views expressed here do not necessarily reflects those of the Tibet Policy Institute. This article was originally published on Phayul on June 20, 2022.