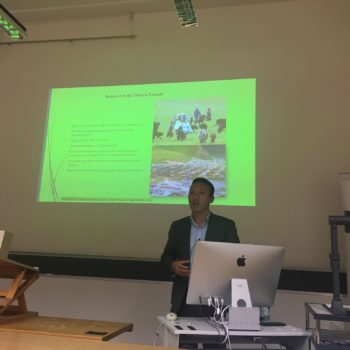 TIBET POLICY INSTITUTE RESEARCHER SPEAKS AT THE UNIVERSITY OF ZURICH
On March 12, 2018 Tempa Gyaltsen Zamlha spoke on the Global Significance of the Tibetan Plateau and its Current Environmental Situation at the University of Zurich in Switzerland.
Mr. Tempa Gyaltsen highlighted the importance of the Tibetan Plateau to Asia and to the world, he said that the plateau is the head source of Asia's greatest rivers and world's highest peaks. He further added the role of the Tibetan Plateau in influencing weather across Asia and Europe, linking the timing and intensity of the Indian Monsoon to change on the Tibetan plateau and also the recent increase in heat waves across Europe to rapid loss of glacier on the Tibetan Plateau.
He also highlighted the increasing cases of destructive mining on sacred mountains and brutal suppression of environment related protests in Tibet, the lack of waste management and rampant littering and waste damping in rivers.
The environment talk event at the University of Zurich was organized by the Tibetan Youth Association in Europe, Student Network Tibet and Swiss Tibetan Friendship Society (GSTF).
Tempa Gyaltsen was in Switzerland to give a series of environment talk, a public talk on Tibet's environment to the Tibetan community in Switzerland on March 4 and another talk on March 8 on the Violation of social environmental rights of Tibetans at the side-lines of the ongoing 37th UNHRC Session in Geneva.