Book Review: A Tiblomat's Reflections
Tibet: Reports From Exile By Thubten Samphel
Blackneck Books  Year of Publication 2019  Page 284
By Dr. Tenzin Tsultrim
The author of this book, Thubten Samphel (TS) was one of the very few Tibetans who have written in both genres of fiction and non-fiction in English. Falling Through the Roof published by Rupa publication is his first novel, followed by Copper Mountains published by Blackneck Books, an imprint of TibetWrites (Dharamshala). Besides writing two novels, TS has co-authored the Dalai Lamas of Tibet and has also translated Tibet in Chains: The Stories of Nine Tibetan Nuns published by the International Campaign of Tibet (ICT). In addition to this, he has edited numerous books on Tibet authored by different scholars and writers around the world.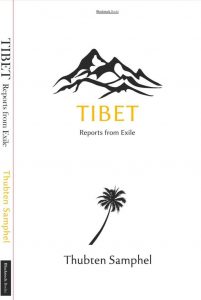 The present book is a collection of his writings from the early 1980s to 2015. It includes commentaries, columns, book chapters, and opinion pieces posted and published on different websites, books, and journals. The book is primarily divided into 3 sub-themes: Tibet, China, and Dharamshala Diary. One may easily conclude what it is about from its themes, Tibet and China. Dharamshala Diary, on the other hand, is about his musings on the happening events in Dharamshala and around the world. The idea of writing 'Dharamshala Diary' perhaps owed its origin to his writings in the 'Last Page' section of the Tibetan Bulletin, which was earlier written by Bhuchung K. Tsering. Interestingly, both of them have been the editors of the Tibetan Bulletin during their times.
The book opens up with Impression from Tibet, which is TS's observation inside Tibet, when he was a part of the Fourth Fact-Finding Delegation sent by His Holiness the Dalai Lama. This long write-up was first published in Tibetan Review in December 1985. In 2018, while recalling his 1985 visit to Tibet, he was quoted in an interview saying, "I witnessed the presence of rock-solid Tibetan identity and Tibetan people's  undying faith for His Holiness the Dalai Lama." The book also comfortably accommodates TS's scholarly writings such as From Empire to Civilization: How Buddhism Transformed Tibet and Virtual Tibet: The Media. It also has an interesting article, A Life Between Two Cultures: Tibetans in New York, originally published in the Tibetan Review (December 1989). The article is an abridged version of TS's MA (Journalism)thesis given at Columbia University, New York in 1988. The article will teleport you back in time and vividly portrays the lives of the Tibetans in New York. Getting a hold of the complete thesis will be more fruitful for the readers in unknotting the complexity of tight roping two cultures. Are any Tibetan Columbians out there?
Besides this, there are many other interesting commentaries, such as The Year of the Shoe-Olympics and his rejoinder to the Hindu Editor Mr. N. Ram, titled Mr. Ram and Fellow Travellers, who after the two choreographed visits to Tibet in 2000 and 2007, decided to speak on behalf of the Tibetan people without meeting or interviewing even a single Tibetan. Similar to this, many well-argued commentaries written by him may delight anyone. Normally if the book revolves around one subject or one story, one may find it a little monotonous, however, this book has around 40 commentaries on different topics and hence the readers could pamper their curiosities.
Thubten Samphel was an acting editor, editor, and editor-in-chief of the Tibetan Bulletin for many years. There are many more writings by TS that are still trapped inside the old copies of the Tibetan Bulletin and the Tibetan Review. For instance, Donkar Wangmo, the Chief Councillor of the Department of Education(CTA) writes in a Linkedin post that "…I am particularly awed by an article on Gangkyi Mess that Kungoe Thupten Samphel la wrote in the Tibetan Bulletin issued from Department of Information & International Relations (DIIR)…" This author later discovered the above article in the Last Page section of the January-February 1998 issue of Tibetan Bulletin.
Francis Bacon once remarked that "Some books should be tasted, some devoured, but only a few should be chewed and digested thoroughly." Similarly, this book by TS should not only be chewed, and digested, but also be shared among those who are interested in knowing about Tibet, Tibetans, and Communist China. However, the only drawback to the book is, that there are a few typographical errors.
This author is tempted to repost the publisher's blurb on the current book. It states that "Thubten Samphel's life-long service with the Tibetan Government-in-exile makes him both a first-hand witness and direct participant to many of the events he discusses. This front-seat view means that Tibet: Reports from Exile carries far more authority on Tibet and the Tibetan people's struggle for freedom than many scholarly treatises."
In short, this book is essential reading for all those who are interested in knowing about Tibet and the Tibetan people's struggles and aspirations.
The book is available at
Tibet Book Store (Mcleodganj), and one can order the book by email at  [email protected]
The writer has a Ph.D. from the University of Madras, Chennai. Currently, he is a Research Fellow at the Tibet Policy Institute, a think tank of the Central Tibetan Administration, Dharamshala, India.
Courtesy: Phayul.com