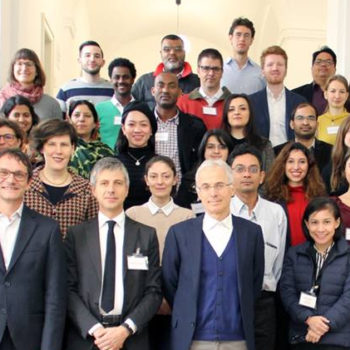 TPI STAFF ATTENDED THE WINTER SCHOOL ON FEDERALISM AND GOVERNANCE
Mr. Tenzin Dalha and Mr. Buchung Dhargyal, represented the Tibet Policy Institute at the 9th winter school on Federalism and Governance at Innsbruck, Austria and Bolzano Italy from 5-17th February 2018. The initiative is common project of the institute for Studies on Federalism and Regionalism on the European Academy (Eurac) Bolzano/Bozen and the Faculty of Law and the School of Political Science and Sociology of the University of Innsbruck.
The winter school comprise of the 30 participants from 22 different countries. At the opening official ceremony Professor Anna Gamper in her remarks, she specially greeted two Tibetan staff from Central Tibetan Administration.
The entire lecture aims to provide in-depth training on evolution and how federal system differ are functions.  It draws on the experiences of different countries. The program covered a wide range of theories and case on federal system around the world.
Panel discussion was also chaired by Prof. Reiner Eichenberger specially highlight federalism between success and failure, the road to welfare.
Second week at Bolzano, started with guided tour and visited the South Tyrolean Parliament including discussion with Provincial Counsellors. It provided overview of political landscape, current narratives and the future of South Tyrol.
Dr. Elisabeth Alber discussed the main features of the South Tyrolean Autonomy, he precisely highlighted and put for discussion on South Tyrol's autonomy. It provided an overview creation and function of South Tyrol's autonomy followed by discussion on pros and cons for the key rules of South Tyro's power sharing amongst linguistic groups, German and Italians speakers.
Mr Tenzin Dalha presented his research findings on the "Implication of Chinese Censorship and Tibetan Activism on Social Media with special reference to rise of Citizen Journalism" at the Innsbruck University on 8th Feb. He fielded many pertinent questions from the participants. Many participants shows their support and sympathy to the cause of Tibet.
A brief presentation on the "Environmental issues in Tibet" was made by Mr. Bhuchung Dhargyal of Tibet Policy Institute during the group discussion of the winter school.