What You Quan's appointment as the head of the UFWD tells us?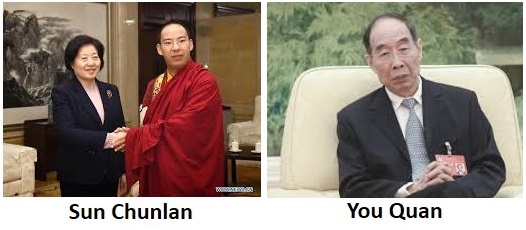 You Quan, 63,  a former party chief of Fujian province was recently appointed the head of the United Front Work Department supplanting Sun Chunlan. The UFWD is an agency under the command of the Central Committee of the CCP which looks after the non-Communist Party entities and oversees ethnic and religious issues.
Like Sun, You has no record of his association with minority issues, particularly Tibet. All of his previous roles have no direct dealing with ethnic and religious issues. But he was directly involved in dealing with Hong Kong, Macau and Taiwan because of his tenure in Fujian. While in Fujian he led a delegation in 2014 to Taiwan to promote further exchanges and set up a pilot free-trade zone in 2015 that focuses on attracting Taiwan's businesses. He also led a delegation to Hong Kong in 2015 to promote business cooperation, meeting members of the Hong Kong Federation of Fujian associations and former chief executive Leung Chun-ying.
The appointment of You could be attributed to his successful association with Hong Kong, Macau and Taiwan's business communities while he was party secretary of Fujian. Who knows? Sun might have played a big role in whistle blowing to Xi about You's achievement as both of them had served in Fujian (Fujian attachment).
In the meantime the next or new appointment for Sun is not made public. Although she was not elevated to the standing committee of the Politburo as anticipated, but she would most likely promoted to become one of the vice-premiers.
You is a two time (18th and 19th) full member of the Central Committee and one of the secretaries of the secretariat. But his immediate predecessor Sun was member of the Politburo when she was appointed the head of the UFWD. By this calculation, You is one rank lower to Sun in the party hierarchy meaning that the position has been lowered from Politburo to the Central Committee. This begets a simple question. Does this implies Xi's Thought (socialism with Chinese characteristics for a new era) has relatively lesser space for ethnic and religious issues?
There is no doubt that Xi attaches sovereignty and territorial integrity a top priority. In his speech delivered at the 19th party congress, Xi has emphasised on the importance of upholding Beijing's authority over Hong Kong and Macau and opposing Taiwan independence. You having first-hand experience in dealing with Hong Kong, Macua and Taiwan put him above many potential leaders to take the role considering the growing importance of this department. The creation of leading small group on the UFWD in 2014 and birth of bureau number nine (Xinjiang Bureau) in 2017 reflect Xi's desire to expand its influence both at home and abroad. Like Xinjiang Bureau, there is a separate bureau for Tibet. Issues pertaining Tibet are handled by bureau number seven (Tibet Bureau). It was set up in 2006. The main tasks of Tibet Bureau are:
1 To suppress Tibetan dissidents in Tibet.
2 Implementation of laws and orders such as measures on the management of the Reincarnation of "living Buddhas" aka order number 5 implemented on 1 September 2007, measures for the administration of Tibetan Buddhism temples implemented on 1 November 2010 and "living Buddha" database launched on 18 January 2016 are all designed to distort Tibetan Buddhism and weaken the authority of legitimate Tibetan religious leaders including the Dalai Lama.
3 To divert loyalty of Tibetan inside Tibet from the Dalai Lama by both carrot and stick strategy.
4 To exhibit Beijing's economic development of Tibet to win hearts and minds around the world.
In his lengthy and bromidic report delivered at the 19th party congress, Xi mentioned the significance of UFWD. In fact, Xi hails its work as party's "magic weapon" that will ensure the success of party.
By the same token, Zhang Yijong, executive deputy director of the UFWD laid bare Xi's intention during the press conference organized by his department on the sidelines of the 19th party congress.
Among regulations promulgated and conferences convened under Xi during his first term, the revised regulation on religion that will take effect on 1 February 2018 has equal significance in materializing Xi's domestic ambitions for a new era.
However, it remains to be seen whether You can sell Xi's Thought in this challenging era for China.
____________
*Tenzin Tseten is a research fellow at the Tibet Policy Institute. Views expressed here do not necessarily reflect those of the Tibet Policy Institute.