Yarlung Tsangpo to Face Another Round of Assault from Chinese Dams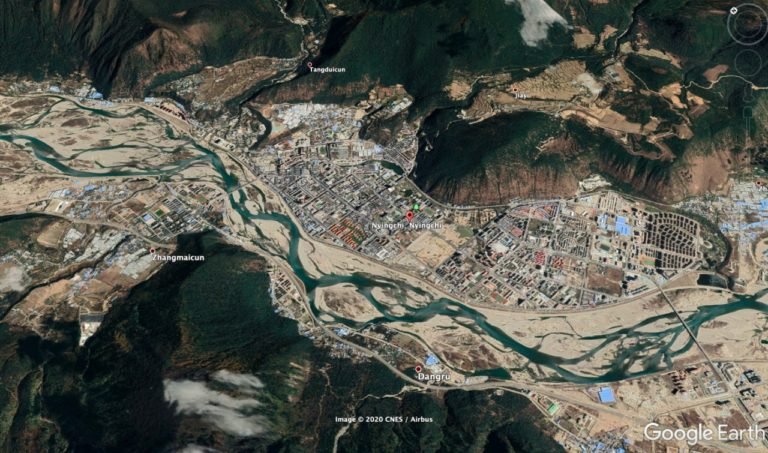 The longest river in western Tibet is about to face another round of assaults from Chinese dams. According to a report (29 November 2020) published in the Global Times, a CCP mouthpiece, the Chinese government plans to construct a 'Super Hydropower Dam' on the Yarlung Tsangpo in Tibet in its 14th Five Year Plan(2021-2025). The report, absurdly stated that the hydropower dam would be "meaningful for the environment, national security, living standards, energy and international cooperation".
In reality, the ongoing excessive damming on the Yarlung Tsangpo is neither eco-friendly nor is it beneficial for the local community. It is in fact, part of a massive state-engineered, long-term preparation for a mass influx of Chinese migrants into the Kongpo region for permanent settlement. Such an eventuality could cause irreversible damage to the local ecology, would diminish local Tibetan identity and will greatly destabilize the hydrological balance across northeastern India.
The dams would apparently serve one and only purpose, China's 'national security' as repeatedly emphasized in the Chinese report.
Now what does 'National Security' really mean here? And how could construction of cascade of mega dams on the Yarlung Tsangpo (Brahmaputra River) serve China's national security?
For the Chinese, the term 'National Security' here refers to more than just the energy security that the dams could possibly provide for China. It means the need for rapid infrastructure development to facilitate the creation of Chinese populated cities in Kongpo or Southern Tibet, extensive resource extraction and transfer from Tibet to coastal China, a geostrategic advantage over India along the Indo-Tibet border, and eventually the assimilation of Tibetans in the region through mass migration from China.
1. Impacts on the local environment
Unlike in the 1960s, the large Hydropower Dams are no longer considered eco-friendly and sustainable. According to a BBC report (5 November 2018), more than 90% of dams which has been built since the 1930s were "more expensive than anticipated", and that these dams have "damaged river ecology, displaced millions of people and have contributed to climate change by releasing greenhouse gases from the decomposition of flooded lands and forests".
The ecological and financial cost of large dams has been gradually realized in the developed countries as more and more mega dams in Europe and America are being dismantled in recent years. The demolition of Yacla de Yeltes Dam (Nature, April 2018) in western Spain was hailed by ecologist as a millstone for river-restoration efforts in Europe.
According to another report in Nature (5 July 2012), the removal of two hydroelectric dams from the Elwha River in the United States brought instant benefits for local wildlife within months. A National Geographic (27 August 2014) report highlighted that the United stated removed 850 dams between 1994 to 2014 and hundreds were removed in 2012 and 2013. In a detailed publication released by the American Rivers (6 February 2020), the United States removed 90 dams in 2019 alone.
But in Tibet, the Chinese government is on a dam-building spree along the 1600km stretch of Yarlung Tsangpo before it enters into India. The long stretch of the river both nourishes and replenishes much of south-western Tibet, including most of the counties in the Lhokha and Kongpo regions of Tibet. Kongpo is home to some of the oldest forests in the world, and historically a safe habitat for dozens of rare and primate species. For example, a group of Chinese scientist in 2015, discovered an extremely rare, primate macaque monkey in the forest of Metok in Kongpo. Zhao Chao, a researcher at Southwest Forestry University, who claimed to have seen the "special macaques" in Metok said that the "the forest is like an ancient museum of nature, home to many unique animals, and we have seen only a few of them."
Guo Guangpu, a lecturer at the School of Life Sciences and Technology, Tongji University in China warned that hydropower projects in the region could have negative impact on the local ecology in Kongpo and that the Chinese government must avoid flooding extensive areas of forest, "which could be home to the white-cheeked macaque and other unique creatures."
Unfortunately, China has long planned 11 hydro-dams on the river with Zangmu and Gyatsa already completed, Dagu and Jeixu under construction, Lengda received permission recently and more to begin soon as part of the 14th Five Year Plan.  Large dams inevitably inundate vast area of land around it for water storage, leading to massive loss of vegetation and wild life habitat, and also emitting huge greenhouse gas into the atmosphere.
Dams also induce seismic activity, landslide and sudden change in local ecosystem.
2. Impact on the local community
The dam construction is only one part of a massive state-engineered, infrastructure development plan in the Kongpo region to facilitate eventual mass-migration from China to this scarcely populated region of Tibet. The region has seen extensive road construction, paving motorable roads as far as remote village of Yulmey near the Indo-Tibet border. The Chinese government carried a rapid upgrading and refurbishment of the 5476km long National Highway 318. Which runs along the Indo-Tibet border connecting Chinese cities as far as Shanghai, Wuhan, Chongqing and Chengdu to Nyingtri, Lhokha, Lhasa and Dram in Tibet. The much-reported and currently under construction Chengdu-Nyingtri-Lhasa Railway line with length of 1629km also run parallel to the highway. Once completed, the railway line would be a direct passage for mass migration into the region from Chinese provinces.
Similarly, there has been rapid expansion of mines in the region in recent years. According to a report published in 2018 by the South China Morning Post (20 May 2018), it stated that a rapidly expanding gold mine in Lhuntze Dzong, located close to Indo-Tibet border in Southern Tibet, not only attracting massive influx of Chinese migrant worker into the region, but also facilitates growth of cluster of Chinese restaurants, karaoke bars and shops to feed and entertain the mine workers.
The surge in Chinese migrant could easily outnumber local Tibetan population. Ever since Chinese occupation of Tibet in 1949, population transfer has been a primary tool to assimilate Tibetan population. Many Tibetan towns and cities in eastern Tibet are already dominated by Chinese migrants. Cities like Lhasa, Nagchu, Chamdo and Jyegudo in central and northwest Tibet are facing similar fate. Chinese migrants in the interior and western Tibetan areas have complained of harsh climate and lack of tree in those places as a reason for not settling permanently despite Beijing's generous incentives. Which make Kongpo in Tibet an ideal spot for mass migration as the region has pleasant mild weather with extensive forest and vegetation cover. The Nyingtri city already has a dominant Chinese presence, and with completion of infrastructure development project could result in an unstoppable influx of Chinese migrants.
By 2035, Tibetans in the region could become minority in their own prefecture and Nyintri would look nothing more than like another Chinese city. So for Tibetans in the region, the ongoing infrastructure development in the region is a colonial trap to marginalize the local Tibetans in their own land.
3. Regional Impacts
Every infrastructure development along the Indo-Tibet border would add to a new degree of threat to India's border security. But construction of a super dam in Metok means, the threat expands all the way to Arunachal Pradesh and Assam. The weaponization of dams is another threat to India as dams were destroyed by enemy to inflict maximum damage with minimum effort during the Second World War. The proposed super dam in Metok is reported to be bigger than the Three Gorge Dam and any destruction of such a mammoth dam would have unimaginable impact in India. The close proximity of the dam location to Indian border means any sudden release of water from the dam would quickly and forcefully reach India with very little time for evacuation.
India could also witness a twin disaster – water shortage during winter as the super-dam would swallow much of the flow during dry season, and flash floods during monsoon season as excess water from the dam would be released monsoons flood season.
Either a deliberate or accidental collapse of any of the dams on the Yarlung Tsangpo (Brahmaputra River) could bring an unimaginable scale of destruction to people of Arunachal Pradesh and Assam in India, and the whole of Bangladesh. Reminiscent of the horror Bangiao and Shimanan Dam failure of 1975, which killed 171,000 people and displaced 11 million people in China.
Conclusion
Dams are known to alter the natural characteristics of a river system and disrupt traditional and local ways of life. The Super Dam proposed in Metok has been in the plan for a long time and it appears that Beijing is now ready to unleash its assault on the Tibetan river. The huge investment on massive infrastructure development in the region is part of a state-engineered, long-term plan to facilitate mass migration of Chinese into the Kongpo region, so as to counter both Tibet and India.
*Tempa Gyaltsen Zamlha is a senior fellow and head of the Environment Desk of Tibet Policy Institute, CTA. Views expressed here do not necessarily reflects those of the Tibet Policy Institute. This commentary was originally published in tibet.net on 1 December 2020.