Conference on 1914 Shimla Convention
March 28, 2014 10:59 pm
Source: Tibet.net
TPI Conference on 1914 Shimla Convention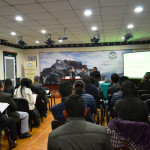 DHARAMSHALA: The Central Tibetan Administration (CTA) today organised a symposium on Simla Convention of 1914, which Tibet negotiated on an equal footing with Great Britain and China.
"The conference is being organised to remind ourselves and the interested parties about the international status that Tibet enjoyed way back hundreds years ago. We believe Tibet's participation at the Simla Convention on an equal footing with the British India and Republican China gave a great deal of legitimacy to the McMahon Line," said Mr Thubten Samphel, director of Tibet Policy Institute, a think-tank of the CTA, which organised today's conference in Dharamshala.
"We also believe that India's interaction with China on what China disputes as a border imposed by an imperial power, India has a very powerful argument to make. The conference will remind the fact that Tibet was at one time a country with treaty making powers," he said.
Prof. Abanti Bhattacharya, Associate Professor at Delhi University's Department of East Asia Studies and former Associate Fellow at Institute for Defense Studies and Analyses, spoke on 'Chinese Perspectives on Shimla Convention".
Speaking on 'International Status of Tibet in 1914′, Mr Tashi Phuntsok, Secretary for the Department of Information & International Relations, said Tibet's status as a nation was reinforced in 1914 when Britain said China has suzerainty over Tibet. Since then Tibet retained its status till 1950. "But in politics and for geopolitical interests, the truth is sidelined," he said.
A conference on Simla Convention of 1914 held at the Department of Information & International of the Central Tibetan Administration in Dharamshala, India, on 28 March 2014/Photo/Voice of Tibet/Tenzin Norsang
In 1903, when Britain sent a military expedition led Colonel Francis Younghusband to Tibet, the then Viceroy Lord Curzon described Chinese suzerainty over Tibet as a "political affection" and a "constitutional fiction".
At another related event held in Shimla today, historians discussed McMahon Line. "When McMahon line was drawn, it was an agreement between India and Tibet but later, the entry of China in Tibet resulted into a security threat to India. We would study and discuss the 11 point agreement signed in 1914 and would submit a memorandum to Union government to raise the Tibet issue prominently for the security of nation," Bhagat Singh Kinner, general secretary of Himalayan Committee for Action on Tibet, said during a deliberations with historians at the conference in Shimla today, The Times of India reported.
"To create awareness about the issue, a national level conference too would be held in Shimla as McMahon Line affects the entire Himalayan belt. Our demand is that Tibet should be a buffer zone between India and China for the security of our country," Kinner said.
The Central Tibetan Administration in Dharamshala plans to hold similar conferences in Delhi and Shimla this year to mark the centenary of the historic Simla Convention of 1914.