Vested Interests Block Reconciliation in Tibet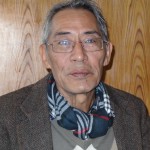 China's anti-splitism bureaucracy is up in arms. This time the Chinese Communist Party bureaucracy's fight against separatists is turning against scholars within party think tanks who dare to suggest accommodation and reconciliation with the Dalai Lama is needed for when the time comes to identify his reincarnation.
This is not a bureaucratic turf war. It is a frontal assault with big guns firing. Both at home and abroad in shrill, "don't talk back" tones, the anti-splitism bureaucracy is engaged in a largely one-sided shouting match.
On 22 October, the Information Office of the State Council, China's cabinet, released another white paper on the development and progress of Tibet. The message like all other incarnations of the white paper before it, is the same. Old Tibet suffered under feudal serfdom and theocracy. New Tibet, the white paper claims, has "gained freedom, equality and dignity" and is "fully enjoying the fruits of modern civilization".
However, there is a little problem. The latest white paper complains, "The 14th Dalai Lama and his clique in exile are conducting separatist activities for a long time to sabotage the development and stability of Tibet … They have put forward the so-called concepts of Greater Tibet and high degree of autonomy, which in fact go against China's actual conditions, and violate the constitution and relevant laws." [Source]
_______________________________________________
*The writer is the director of the Tibet Policy Institute. Views expressed here do not necessarily reflect those of the Tibet Policy Institute.