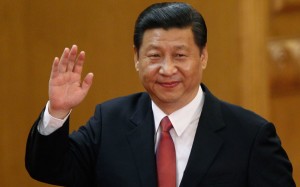 Xi Jinping personally endorsed the catchphrase "China Dream" during his first public appearance with the other six (all male) new members of the standing committee of the Politburo at an exhibition called "The Road Toward Renewal" at the National Museum in Beijing. His comments came two weeks after his enthronement to the most powerful position in China as the general secretary of the Chinese Communist Party (CCP) in November of last year.
After Xi took office in March as the president of the People's Republic of China (PRC), he reiterated the phrase at the National People's Congress (NPC), describing it as the people's dream and emphasizing that it should continue to benefit the people. The question needs to be asked is, does his China dream involve the dreams and aspirations of the Tibetan people?
Xi's China dream has two clear visions:
First: Nationalism
Whether it emerged spontaneously or from official propaganda, it looks like Xi Jinping has put forward his own version of nationalism. Recent history has shown the real story of how Chinese nationalism has sparked China's economic modernization. Territorial integrity and national sovereignty come above all in Xi's version of nationalism. The long-standing border dispute with India, the heated island controversy with Japan, and territorial claims in the South China Sea all reveal Beijing's strong commitment to territory expansion.
The concept of nationalism has emerged in the recent history of China. It is worth reproducing a small piece, which was quoted in an article titled "We are Patriots First and Democrats Second: The Rise of Chinese Nationalism in the 1990s" written by Suisheng Zhao. As John Fitzgerald points out, "the Chinese custom of referring to their historical community by dynasty (chaodai) rather than by country (guojia) implied that there was in fact no Chinese nation at all."The idea that nationalism could exist in the absence of a Chinese nation is out of the question.
Until recently the PRC has never officially used the term nationalism. Rather, 'patriotism' has been their official mantra with which to describe the love and support that the Chinese people should feel for their country. The "patriotic education" campaign was launched in early 1990s and later unfolded into a youth education campaign after Deng Xiaoping's famous southern China tour in 1992.
The CCP carried the task of disseminating the idea of patriotism as a guiding principle for China's education reform, anticipating the problems that are increasingly emerging from the younger generations. China has a strong memory of the Tiananmen Square protests of 1989 (student-led demonstration) also known as the June fourth incident in Chinese, one of the hardest challenges that the CCP has ever confronted. They directed this campaign at the whole spectrum of society, from kindergarten to university, not even leaving behind nomads and farmers. This effort was launched in order to garner unconditional love and support for China. Gradually they changed the concept into a more simple approach called "I am Chinese", a comprehensive strategy in universities, which was used to help China survive the changes it has been experiencing. The move behind this speedy transformation was to win the hearts and souls of the people in the party and legitimize the party in the eyes of those Chinese who live overseas. (See Edward Friedman and Barrett L. McCormick, What If China Doesn't Democratize? Chapter 1, pp. 21-30)
Signaling his similar approach, Xi Jinping made his maiden countryside tour in December of last year exactly 20 years after Deng's southern China tour. Xi Jinping spoke of a robust military during his inspection tour of the navy in southern China. "The armed forces need to be ready to assemble at the first call of the CPC and be capable of fighting and winning any battle," he said while addressing the soldiers of Lanzhou Military. Xi once again came up with a tough statement on Diaoyu Island, "we must not give up our legitimate rights and interests, and we must not sacrifice our core national interest." This rhetoric signifies Xi Jinping interpretation of the China Dream.
If this is the case then what the Tibetan veteran writer Tsering Woeser's argues in her article titled "No Room for Tibetans in the Chinese Dream" is valid. Those inside Tibet who long for the return of His Holiness the Dalai Lama to his homeland, and the Tibetans aspiring for genuine autonomy through Middle Way approach have been incessantly rejected by the PRC. Woeser writes that the PRC's disdain for the memorandum comes from the PRC's belief that the Dalai Lama's proposals have a double meaning. The PRC views the memorandum from the Dalai Lama's envoys as de facto independence or independence in disguise for all of Tibet.
As it has been in the past, Tibet today is of crucial importance to China in terms of its strategic location. (See Dawa Norbu, China's Tibet Policy, Chapter 14, pp. 228-242) Since 2002, nine rounds of talks were held between envoys of the Dalai Lama and the PRC. Unfortunately, no headway has been made in the process. There are many possible reasons behind the delay. Notably, Tibet (defined here as the sum of the three traditional provinces of U-Tsang, Amdo, and Kham) comprises of 2.5 million square km of land and accounts for one quarter of China's total land area. As a result, China will bear any cost to avoid the loss of this territory. In response to this strategic imperative, the Chinese government sends large numbers of non-Tibetan people into Tibet. The PRC official propaganda advocate that the population transfer is meant for investors, academicians, and tourists. We do not deny the economic development seen in Tibet through this policy. But despite the official propaganda, in reality the PRC's population transfer policy threatens the very existence of Tibetan culture, religion, and national identity. According to Central Tibetan Administration (CTA), everyday 5000 to 6000 Chinese come to Lhasa via the Gormo-Lhasa railway. Out of these, only 2000 to 3000 return back to their homeland. The question is, where are the remaining Chinese who does not return?
Apart from strategic importance, China generates enormous wealth by exploiting Tibet's plentiful minerals such as gold and copper. Reportedly, Tibet has 132 different types of mineral deposits that can be mined and extracted.While Tibet has made China a water hegemon (all seven major rivers in the region which directly or indirectly flow to downstream countries originate from Tibet), China has no single water-sharing treaty with any of its 12 riparian neighbors. The core idea behind this move was to make water a political weapon in dealing with these countries as is stated by Brahma Chellaney, strategist expert, in his article "China's New War Front."
As far as minority representation in China's political system is concerned, these potential political actors have been minimized. During the 17th party congress, there were 16 minority representatives at the Central Committee level. This number was reduced to 10 during the 18th Party Congress. Similarly, the number of fully-fledged Tibetan representatives at the Central Committee level has been reduced. So far there is no single Tibetan national in the CCP's top two chambers and I do not see any positive signals in that area. If  the CCP's claims are true that Tibetans have been granted autonomy then why is the post of party secretary, the highest position in Tibet Autonomous Region (TAR), not held by a Tibetan? This question is even more important considering that this position has always been held by the Chinese. This clearly implies that China dearly wants Tibet-but not the Tibetans.
Second: Monopoly
It is no surprise to see or hear from Xi Jinping about reform. As I mentioned in my article titled, "Will Xi bring a meaningful reform?" (CTA blog at www.tibet.net) I start with the quote by Robert Lawrence Kuhn, "The risk of not reforming is now higher than the risk of reforming." China is at a critical juncture, facing serious and life threatening challenges. There is no doubt that China in the past three decades witnessed extraordinary economic progress.  During the second term of Hu Jintao's presidency, China's unparalleled economic expansion was dragged down by the global financial crisis.
In the midst of the sluggish economy, China simultaneously saw the proliferation of rural migrants to cities desiring a better job and access to health care. They too had the wish to send their only child to reputable schools and colleges just  as urban parents have been able to do.
China's rotten system of household registration officially known as "Hukou" still persists. The long-stalled household registration system has become one prominent concern for the regime. It is not only an obstacle for the millions of Chinese dreaming of a full-fledged city life; it has also become an obstacle for the state vision of urbanization. Since the migrants are not entitled to those provisions under the Hukou system, they have no other option other than saving their earnings, and this in turn has led to an unbalanced economy. The state's desire for a consumption-driven economy can only be possible when there is a change in this system.
In addition, city governments are not in a position to extend financial service to migrants. According to Zheng Zhijie, president of the China Development Bank, China needs 50 trillion yuan ($8.2 trillion) in investment by 2020 in order to accommodate 100 million new migrants and provide increased benefits to almost 200 million migrants who are already living in cities. On the other hand, many urbanites do not want to share their opportunities and good fortune. This has become the current trend of China's household registration system.
The government also has to deal with rampant corruption as stated by president Xi in his first public speech. To realize this dream, the current system has to be abolished. The constitution has to become more powerful than the party. This may very likely be an impossible task. There is a Chinese saying, 'Get the moon from the bottom of the sea', this is spoken in a situation when someone wants to do something impossible.
The fundamental perception of China Dream put forward by Xi is commendable. He talks about pursuing the dream of 1.3 billion Chinese. "Our people have an ardent love for life. They wish to have better education, more stable jobs, more income, greater social security, better medical and health care, improved housing conditions and better environment."
While that is the dream of 1.3 billion Chinese, Tibetans too have a dream. A dream that could be achieved with political will from Xi himself. Since February 2009,117 Tibetans have self-immolated. In spite of acknowledging its failed policies, the CCP has tested a variety of policies – all contrary to the aspirations of Tibetans. This is not a dream for Tibetan people. Rather it is Xi's dream, the 'Party Dream'. This unrealistic and morally unacceptable dream needs to be freely analyzed and then crushed in order to achieve the genuine peoples' dream.
____________________________________________________________________
Tenzin Tseten is a research fellow at the Tibet Policy Institute. Views expressed here do not necessarily reflect those of the Tibet Policy Institute.